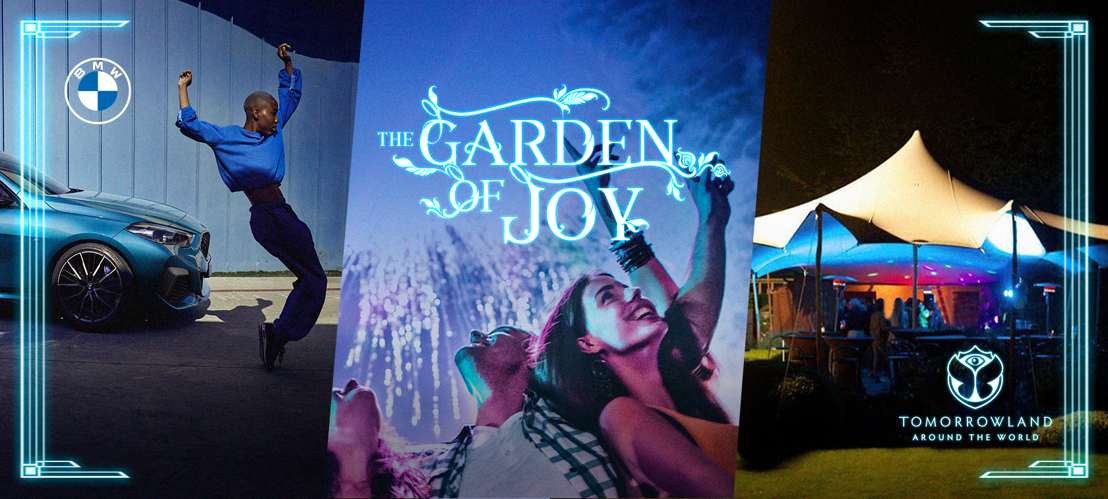 The Garden Of Joy: de magische Tomorrowland thuiservaring van BMW en TBWA
Vrijdag 10 juli 2020 — Al weken kijken Tomorrowland-fans uit naar 25 en 26 juli, want dan vindt 'Tomorrowland Around The World' plaats, het digitale dancefestival. Uiteraard ook BMW, want als trouwe partner van het festival lanceert het voor de gelegenheid 'The Garden Of Joy'. Een wedstrijd waarbij fans een all-inclusive arrangement thuis kunnen winnen voor hen en 10 vrienden. Met andere woorden: het magische festival in je eigen tuin.
Eat, sleep & rave in stijl
Je tuin wordt helemaal omgetoverd in The Garden of Joy. BMW brengt een partytent inclusief high-end geluidsinstallatie, een luxe barbecue en dessertbuffet door een sterrenchef. Tomorrowland cocktails, twee deluxe slaaptenten, een heerlijk ontbijt en nog veel meer.
En natuurlijk ook het beste van BMW
BMW haalt voor de gelegenheid ook z'n mooiste modellen uit de kast. De exclusieve BMW Shuttle Service pikt de 10 genodigden in stijl op en brengt ze 's anderdaags weer veilig thuis. Heerlijk genieten in alle luxe.
Wil jij kans maken op The Garden of Joy? Ga dan snel naar www.bmw.be/thegardenofjoy