Headline Publishing staat in voor 'dmix versie 2.0'
Donderdag 18 december 2014 — De direct marketingsector is in volle evolutie en de bdma speelt hier volop op in. Met seminaries, task forces, events en nu ook een volledig vernieuwd magazine.
Na een consultatieronde bij een aantal customer publishingbureaus gaf de bdma aan Headline Publishing de opdracht om zijn ledenblad dmix volledig te herzien. Een terechte keuze, want Headline Publishing staat in voor concepten, realisaties en content voor sterke merken als Audi, GDF Suez, Toyota, SITA, Touring, Cofely Fabricom, Bosch en Umicore, en wint regelmatig awards met die producties.

Doelstelling van deze 'dmix versie 2.0' is manifest vernieuwend uit de hoek komen. Zowel qua verpakking als inhoudelijk.

De look & feel van de nieuwe dmix sluit dicht aan bij de hedendaagse trends in de magazinewereld en biedt bovendien een onverwacht extraatje. Zo kan de lezer bij een aantal artikels meteen de bijbehorende filmpjes op de smartphone of tablet bekijken. Print meets digital...

Maar omdat niemand simpelweg oude wijn in nieuwe zakken wil, werd er ook stevig gesleuteld aan de inhoud. Met de nieuwe dmix willen we immers verleiden én veroveren, door de expertise van de bdma te vertalen naar informatie die relevant is voor de lezer en aangenaam om te lezen.

Hierbij alvast een kleine sneak preview op de inhoud van het nummer dat binnenkort in de brievenbus van de bdma-leden en marketing- en communicatiespecialisten zal vallen:
Don Peppers versus Steven Spittaels (McKinsey) over de marketeer van de toekomst, met een Don Peppers die de dingen vooral principieel bekijkt en Steven Spittaels die de zaken eerder praktisch en systematisch aanpakt. Een spannende discussie, met een onverwachte uitkomst.

Henny van Gerwen (BBDO One to One) schotelt vijf mooie cases voor uit de recente DMA ECHO Awards en vertelt over de vijf nieuwe trends en een duidelijke trendbreuk in direct marketing die hij als jurylid in San Diego heeft opgemerkt.

In het dossier rond e-commerce wordt dieper ingegaan op de vier uitdagingen om van ons land de koploper in e-commerce te maken, met tips & tricks van Jan Huysmans (bol.com) en Peter Burin (Vente Exclusive).

Ivan Vandermeersch (bdma) en Dominique Pissoort (Bisnode) bieden dan weer meer inzicht in de nieuwe Europese wetgeving in tijden van steeds meer online sociale media en e-commerce.

Papier als geheim wapen in e-commerce? Hans Smellinckx (Artoos) vertelt er meer over en serveert twee interessante cases ter illustratie.
De eerste editie van de dmix versie 2.0 komt uit in december 2014. Het magazine verschijnt vier keer per jaar met een oplage van 5.500 exemplaren en telt 40 pagina's. Eén van de vier nummers zal trouwens een special zijn over de Cuckoo Awards en meer pagina's tellen.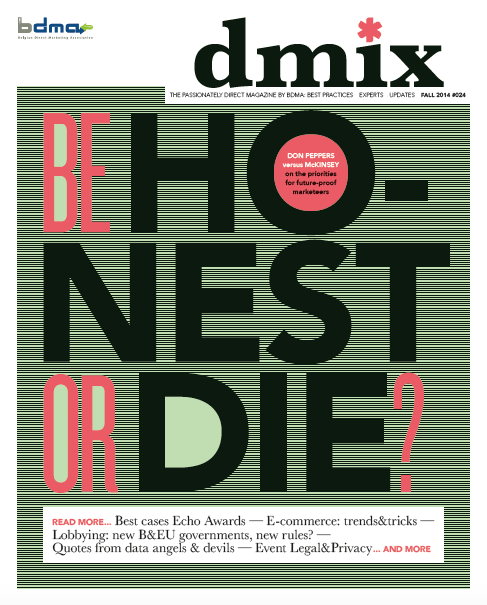 Contacteer ons
Anne Thys
Headline Publishing
Anne Thys
Headline Publishing