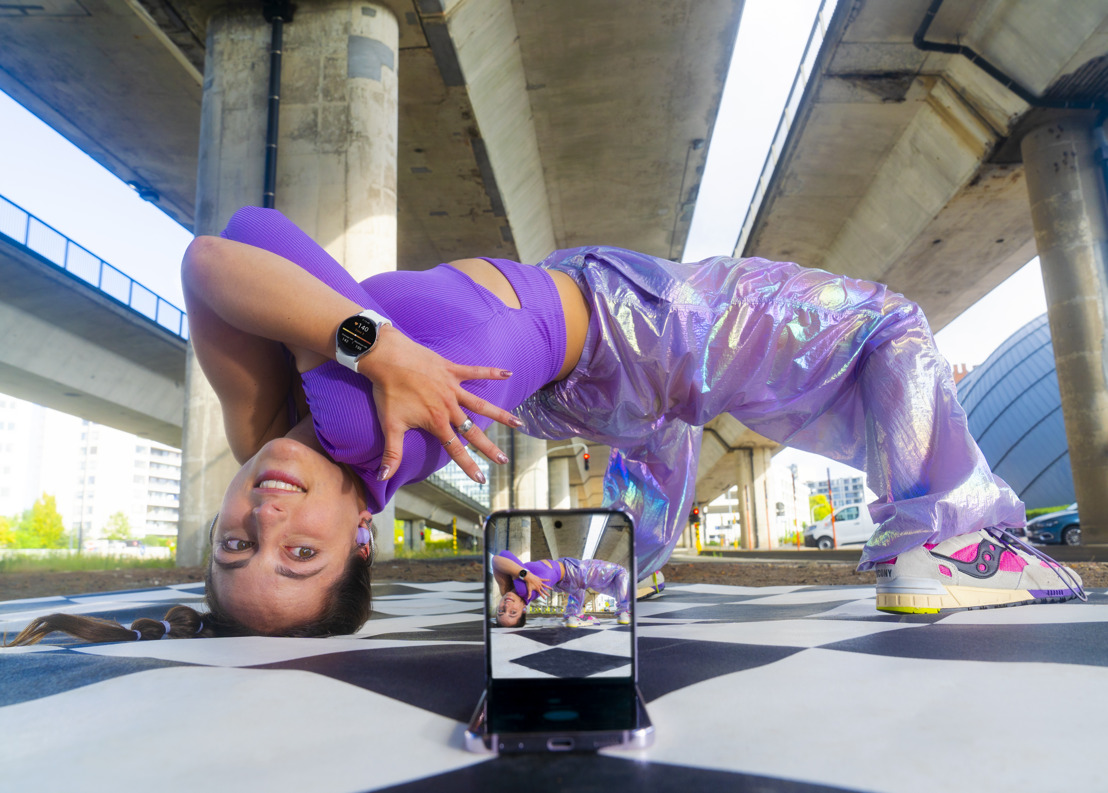 Samsung & TBWA\Belgium flip the rules in new brand movie 
Samsung, TBWA and Belgium's leading B-girls inspire youth with a new collaboration: "dare to be yourself" 
Diegem, 6 September 2023 – Hosting the 2023 Breaking World Cup in Leuven this month, Belgium briefly becomes the global center of breaking. Samsung Electronics Belgium joins the dance as a sponsor. The tech giant even introduces a structural partnership with two leading Belgian B-girls. Launched with a fresh brand movie, the B-girls take their moves to a new stage: an enormous version of Samsung's latest foldable smartphone, the Galaxy Z Flip5.
From September 22 to 24, Belgium will be the place to be for the international breaking community. Over the course of three days, B-boys and B-girls from all across the globe gather to showcase their best moves at the 2023 Breaking World Cup in Leuven. For the first time ever, the battle for the world title also becomes a battle for qualification to the Olympics, with breaking set to make its Olympic debut at Paris 2024. As a sponsor of the upcoming World Cup, Samsung launches a structural partnership with Belgian B-girls Maxime 'Madmax' Blieck & Camine Van Hoof, aiding them in their search for Olympic glory.
Innovation & self-expression at heart
"Breaking represents personality, individuality and courage," says Laurence Vandermeer, Marketing & Communication Manager of Samsung's Mobile Division. "A combination where we as a brand certainly identify with. We strongly believe in breaking's core values. It's a subculture that thrives in innovation and self-expression. Dare to innovate, dare to keep going. There's a reason why our motto is Do what you can't."
But Samsung wants to be more than just 'a sponsor.' That's why Belgian B-girls Madmax & Camine can count on Samsung's structural support.
Flip The Rules: a campaign that unites individuality, music, sport and technology.
Belgian B-girls Madmax & Camine take center stage in Samsungs fresh brand campaign 'Flip The Rules.' In an inspiring brand movie, the B-girls and Samsung urge young talent to find their own way. To not blindly follow the mainstream because 'that's how it should be done.' To Flip The Rules. If you truly believe and behave that way, you might just end op at the Olympics one day…
Laurence Vandermeer: "A breaking battle unites individuality, music and sport. We gladly add technology to that mix: technology to record your moves with a smartphone that matches your flexibility, helps you track your physique, brings your favorite beats to life, opens a world of online inspiration or allows you to share your new head spin with friends."
"I'm immensely proud of this partnership between Samsung and the B-girls," says Thomas Driesen, Creative Director at TBWA. "While this transcends advertising, we launch the partnership with a beautiful piece of cinema. An artsy choreography between the Flip5 and the B-girls, between past and future." A visual statement that came to life through a solid collaboration between TBWA, Oscar-shortlisted director Anthony Nti and the B-girls. Not only the choreography, but the entire production was a great challenge. Creating a life-size Galaxy Z Flip5 – which required over 2 tons of LED screens – was a real feat. But the result – a cinematographic film with international feel – is worth looking at. And listening to. The story is told by upcoming hiphop artist Miss Angel. The B-girls are dancing to the tunes and violins of Vivaldi, entirely flipped to breaking beats by Antwerp-based composer and producer Abraham Blue. Thomas Driesen adds: "Even the soundtrack flips between past and future, between high and lows, and quite literally elevates the B-girls to new heights."
The campaign will air in cinema's and online.
---