TBWA\Belgium celebrates their first CGI Out Of Home with 14M views in only 4 days
TOO GOOD TO BE TRUE: Samsung stuns the world on socials with 'Unbelievable' Power of the Bespoke JET™ AI. A deep dive into Faux Out Of Home, the next step in (digital) marketing.
Have you recently seen an ad that looked a bit… too good to be true? Well, chances are it wasn't true at all. You wouldn't be the only one to be 'fooled' by the wave of hyper-realistic Augmented Reality or Computer Generated ads that's taking the internet by storm.
Slowly starting to become known as FOOH (Faux Out of Home) marketing, CGI videos are used by a wide range of big brands to create buzz for their flagship products. From driving Jacquemus purses to a giant Maybelline mascara in London's subway stations, more and more of these digital executions are popping up all over social media.
The evolution does raise some questions on the role of authenticity in advertising. TBWA\Belgium, one of Belgium's leading agencies, takes a deeper look at the phenomenon.
NUMBERS DON'T LIE
Of course, it's useless to speak about a topic without proper background. TBWA\Belgium recently launched its first CGI campaign, together with Samsung. In the short video you see a van driving Samsung's Bespoke Jet™ AI (a vacuum cleaner) through the streets of Amsterdam, picking up litter along the way. But, and you probably guessed it, that never happened.
"When you look at the conventions surrounding vacuum cleaners, you quickly end up with in-house product demo's that are purely focused on features. But an innovative product like the Bespoke Jet™ AI needed an innovative campaign. We saw it as the perfect window of opportunity to try out a new form of advertising and purposefully chose the unbelievable power of CGI technology to show the unbelievable power of the Bespoke Jet™ AI. The result is a testament to both TBWA and Samsung's innovative nature," says Thomas Driesen, Creative Director at TBWA.
So here comes the first question: why 'fake' something if you have the real product to show for it? Well, the statistics immediately offer a clear response.
And our results after only 4 days were mind blowing. And the views (and kudos) speak for themselves…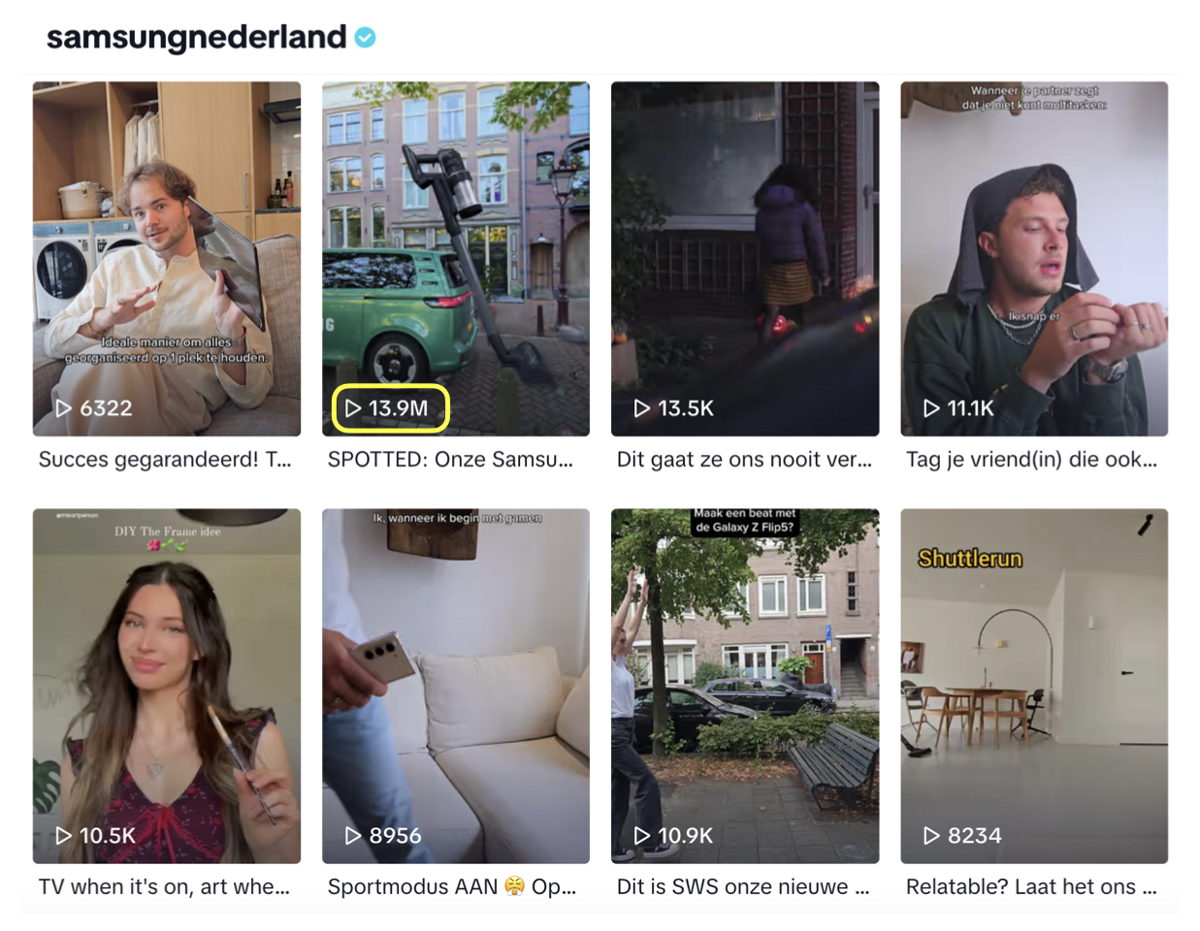 Compared to more classical advertising, CGI marketing is racking up the views. In an online landscape dominated by short form content, classic ads simply don't make the cut anymore. The battle for viewers' attention is fiercer than ever. Even hyper-targeted digital ads remain ads. FOOH marketing offers a lifeline. By elevating ads to something actually worth watching, brands can find their way back to the front page of everyone's social media.
R.I.P. AUTHENTICITY?
Fact-checking has never been more relevant than it is today. FOOH isn't spared that fate. More often than not, the comment section of FOOH's becomes filled with accusations of fake advertising. Here's another question: can we accurately label FOOH's as 'fake' and – more importantly – do they impact the authenticity of your brand?
Henri Wuyts, Innovation Strategist at TBWA\Belgium, doesn't think so. As with any form of advertising, he claims, authenticity is a result of delivering what you promise. He clearly identifies two categories in the current FOOH landscape: concepts that embrace the surreal possibilities of the technology, and concepts that try to find the limits of realism.
"The authenticity of the execution lies in an understanding of the brand and the context of the ad, but FOOH doesn't breach the consumer's trust in any way. It's about the image you want your products to have, the same way print ads can have fantastical or illogical elements in it. If we can dream on TV, why can't we dream on social media?", he adds.
SO WHAT'S NEXT?
FOOH is hot and happening in the world of luxury brands, but also has a lot of potential for other lifestyle brands. As tech gets better, the ads we see will become more creative and exciting. We think brands will use FOOH to tell better stories that people will love. This new way of advertising might be different, but it offers a lot of chances for brands to reconnect with people after digital ads went hyper personal and lost a bit of soul. The message is clear: FOOH isn't just a passing trend. Brands that use it well will be the leaders in the future of digital advertising.
---