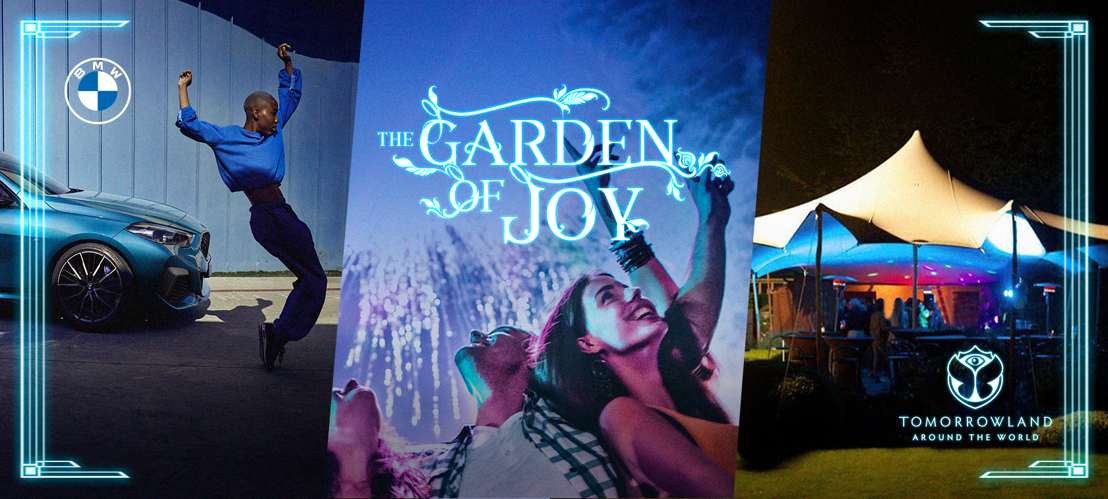 The Garden of Joy : l'expérience magique Tomorrowland à domicile de BMW et TBWA
Vendredi 10 juillet 2020 — Depuis des semaines, les fans de Tomorrowland attendent avec impatience les 25 et 26 juillet, dates auxquelles aura lieu 'Tomorrowland Around The World', le dance festival en version digitale. C'est aussi le cas de BMW qui, en tant que fidèle partenaire du festival, lance pour l'occasion le concours 'The Garden of Joy'. Celui-ci permet aux fans de gagner une installation all-inclusive dans leur jardin pour eux et 10 de leurs amis. En d'autres termes : la magie du festival dans votre propre jardin.
Eat, sleep & rave avec style
Votre jardin sera complètement transformé en 'The Garden of Joy' puisque BMW y plantera une tente de fête comprenant une installation de sonorisation haut de gamme, un barbecue de luxe et un buffet de desserts préparés par un chef étoilé. De plus, des cocktails Tomorrowland, deux tentes luxueuses pour y dormir, un délicieux petit déjeuner et bien plus encore feront de cette soirée, une expérience magique.
Et le meilleur de BMW, bien entendu
Pour l'occasion, BMW sortira ses plus beaux modèles. Le Shuttle Service BMW exclusif viendra chercher les 10 invités et les ramènera chez eux le lendemain en toute sécurité et avec élégance : plaisir et luxe au programme !
Envie de tenter votre chance de remporter The Garden of Joy ? Rendez-vous vite sur www.bmw.be/thegardenofjoy